TURNKEY SOC SERVICES BASED ON NIST 800 FRAMEWORK
Affordable SOC solution for Any Business
Advance On-Boarding: Environment Hardening and CIS Top20 Controls
24x7x365 SOC services based on NIST-800 Framework
Best of Breed security applications and technology stack.
The World's First Converged XDR Security Platform.
Unified visibility of cloud and On-prem assets
Vulnerability Scanning & Reporting
State of the Art Technology Stack
Regulatory Compliance
Specialist SOC Team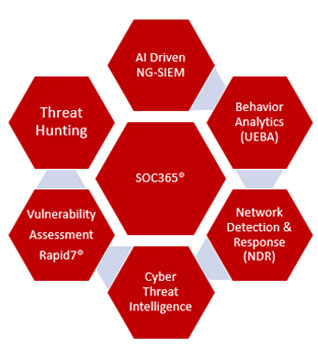 Tailored Services that can fit in your budget
Its more than buying a SIEM tool. Select from variety of available packages to meet your business requirements. Each package is carefully designed to address diverse used cases and budgetary requirements.
Certified Security Expertise
Round The Clock Human Monitoring
Event Tracking & Reporting
Compliance Expertise & Enablement
Remediation Recommendation & Procedures
Extend Your Security Team
You're running lean with a small security or IT team – prioritizing, investigating, triaging and responding to every security alert can leave you running around putting out fires all day.
Plus, you might lack the security expertise it takes to respond effectively to potential threats, putting your organization at risk of falling behind.
With SOC365 have access to our security analyst team's expertise.
Break Up With Your SIEM
SIEM Challenges
| | |
| --- | --- |
| Failed SIEM Deployment | Many SIEMs take months to years to fully deploy due to complexity with hidden costs that make it prohibitive for companies with small teams and limited resources. |
| Too Many Alerts | Without proper tuning by security analysts, SIEMS can generate over 10,000 alerts daily. Inundating your small teams with false-positives can result in a failure to address real security incidents. |
| No Real Security Value | With log collection, you need correlation and threat hunting for threat analysis. With a typical SIEM, you end up buying additional costly software, like SOAR solutions to fill in security gaps. |
Faster Time to Security Value
Automatically Parse Logs
Each system you monitor uses different data formats – for any SIEM to effectively link log records, it must first parse (extract relevant data) from raw logs. Typical SIEMs require a lot of work from your team to develop and maintain parsers.
SOC365 XDR platform does that work for you, making it easy and simple to set up the cloud-delivered solution in your environment and automatically start seeing security value.
Context-Rich Data
Automatically Stacked Evidence
Once you receive a finding from our SOC, you can get all of the necessary information for next steps or further investigation – from associated users, source IP addresses, domain names, timestamps and more.
With our automatically stacked matched evidence, populated with every prioritized alert and finding, you can significantly reduce the time spent gathering relevant data from different systems and tools.
Correlated Security Data
Automated Threat Analysis
SOC365 platform integrates with multiple threat intelligence feeds to match events with the most up-to-date threat information, automatically correlating threats with data, doing the analysis for you. We detect incidents related to ransomware, data exfiltration, lateral movement and more.
No need to comb through large volumes of datasets manually for investigation and response. Our security analysts do even more work for you; writing detection rules for threat hunting to reduce the time your team needs to spend on tracking down security incidents.
Built-in Threat Analysis
Detect, Investigate & Analyze
Don't have time or the team to investigate every alert? Supersecure security team works behind the scenes, proactively hunting threats and providing you with automated analyses and advice on next steps. Our Threat Feed allows you to compare incoming network traffic against multiple threat intelligence feeds to inform you of malicious activity in realtime.
Still have questions? We're available to answer them, as your trusted security advisor.
Worldclass Vulnerability Management
Collect, Prioritize & Remediate
Vulnerabilities pop up every day. You need constant intelligence to discover them, locate them, prioritize them for your business, and confirm your exposure has been reduced. Nexpose, Rapid7's on-premises vulnerability management software, monitors exposures in real-time and adapts to new threats with fresh data, ensuring you can always act at the moment of impact.
Our security experts perform vulnerability scanning on weekly basis on your critical assets and report the findings with remediation guidelines.